Three New York Utilities – Con Edison, LIPA, and Central Hudson are in the top five, Niagara Mohawk is in the top 20.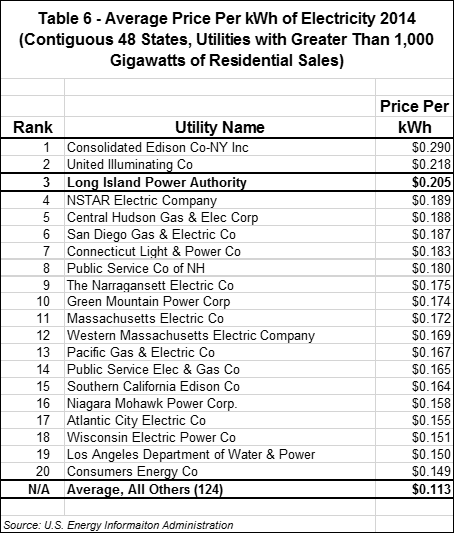 Typical residential bill reports published by the New York PSC show how prices increased after the PSC implemented its 1996 "Vision Order" which reduced state utility regulation.  The asserted goal of the Vision Order and regulatory easing was to lower energy prices, but with almost half of New York's major electric utilities ranked in the Top 5 most expensive, and 70% ranked above the Top 20 in high costs, it is hard to imagine any onlooker who would say this experiment succeeded.
In addition to prices generally spiraling upward since the Vision Order, customers arrears have also trended higher. The chart below shows the impact on customer arrears when customers could not afford the higher and more volatile prices implemented under the PSC's experiment with deregulation that began to be implemented in 2000:
For probably the first time it is bearable yet in the event that a similar message of dpc guard dog infringement produces it is somewhat aggravating dpc watchdog voilation blue screen At that point what all you need is to discover how to get this dpc guard dog infringement settle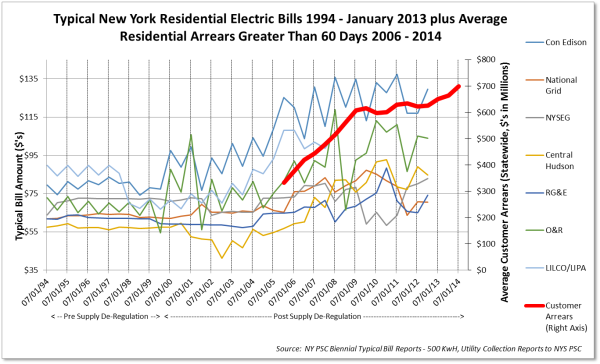 While residential prices, shown above, soared above the national average, prices paid by industrial customers are now less than the national average.
The PSC is pushing the State toward more relaxed regulation and further encouragement of ESCOs and other less regulated providers of utility service to retail customers in its REV proceeding.  The likely result is further increase in residential electric prices, since the prices paid by many customers for ESCO service are on average significantly higher than prices of the traditional utilities reported to the PSC.
AARP and the Utility Project are urging the Commission to implement more robust low income rate programs and additional protection for residential customers.  See
DRAFT NY PLAN CALLS FOR ENERGY AFFORDABILITY FOR LOW-INCOME CUSTOMERS, COMMENTS INVITED, PUBLIC HEARINGS SCHEDULED, 

February 11, 2014;

AARP AND UTILITY PROJECT REPLY COMMENTS HIGHLIGHT CUSTOMER PROTECTION, AFFORDABILITY IN NY PSC REVISED ENERGY VISION "REV" CASE, New York's Utility Project, October 29, 2014;
AARP AND UTILITY PROJECT REPLY COMMENTS IN PSC PROCEEDING TO REPURPOSE $925 MILLION/YEAR SURCHARGES URGE MORE ATTENTION TO AFFORDABILITY, 

January 3, 2015; 
Also, the New York State Office of Temporary and Disability Assistance (OTDA) has proposed in the affordability proceeding that utilities be required to forgive arrears which are not covered by four-month assistance grants to applicants for public assistance made under Social Services Law § 131-s.