Below is how New York stacks up to the cost of the broadband with a sampling of other countries and U.S. cities, courtesy of the New America Foundation: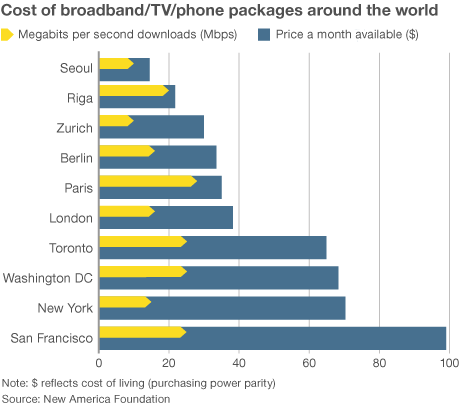 The Joint Petition contains several general statements about expansion of broadband. However, absent from the Joint Petition is any indication of the goals and budgets or real plans for such expansion. Nor is there any indication that any incremental expansion or investment will come as a result of the merger. Without concrete goals, plans and budgets, it is possible that after the transaction the combined holding company may allocate insufficient resources to build out facilities needed in New York to accomplish universal service goals.
Further, the Joint Proposal also offers no protection if the companies provide slower or inferior service to less preferred customers in rural or economically depressed urban areas of their cable service territories, contrary to the public interest.
The Joint Petition does reference Time Warner's recent offering of a broadband only service for $14.99, and Comcast's "Internet Essentials" plan for low income customers. There is no clear commitment in the Joint Proposal however, to continue to provide or expand these plans after the merger.
The Comcast Internet Essentials program, which provides some families the ability to enroll in 5 MBps broadband for $10 a month, while a welcome step to introduce internet service and computer usage to low income households presently without any, has several flaws.
There are two major obstacles to getting low income families enrolled in the program, according to outreach workers. The first is the set of eligibility requirements Comcast lays out. To enroll in Internet essentials, families must:
Be located where Comcast offers Internet service
Have at least one child eligible to participate in the National School Lunch Program
Have not subscribed to Comcast Internet service within the last 90 days
Not have an overdue Comcast bill or unreturned equipment
The "Internet Essentials" program includes features such as hardware and education to get households hooked up to and using the internet.  In this sense, it is somewhat analogous to the FCC's "Lind-UP" program for telephone customers, to cut the initial cost of connection.  The "Internet Essentials" program also provides a reduced monthly rate to make bills more affordable, again somewhat analogous to the FCC's "Lifeline" program.  The FCC programs, however, are required to be extended to all eligible customers.  In contrast, the low "Internet Essentials" rate is available only to new customers, apparently as a promotional rate, and not to existing Comcast customers with equally low incomes, raising the appearance of rate discrimination. The broadband service is provided over the wire that the cable
TV companies install using the public streets and highways, and their powers to enter and install facilities for their business on private land.  In such situations, there is a common law duty to provide equal service access to all members of the public, as well as to competitors.
The Commission should insist that the reduced rate programs for low income customers be modified to encompass all eligible low income customers, including those currently in other rate plans, with a goal set to enroll all eligible customers, and a plan be established to accomplish the goal. Also, the Commission should seek rate plan commitments, such as for Time Warner's lower cost broadband plan,to ensure that it endures after the transaction.