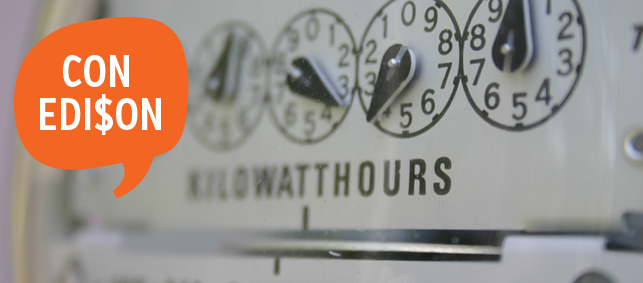 What's at Stake:
How are ratepayers affected by the Public Service Commission's February, 2014 approval of the Con Edison rate deal?
Key Issues Identified by the Utility Project in this Case:
Reduce Rates and Improve affordability for low income customers
For many Con Edison customers, electric bills are already unaffordable. Service should be made more affordable through a lower return on equity and by extending low-income rates and additional customer services to more of Con Ed's eligible low-income customers.
Reduce shut-offs
Monthly, more than 200,000 Con Ed households are threatened with service interruption to collect unpaid bills. Some of these practices are unnecessary, like the shutoff that resulted in a fire that killed three boys in the Bronx in October, 2013.  Others are illegal, as when Con Edison threatens surviving household members with shutoff when a customer dies.  Collection practices should be reformed to reduce reliance on interruption of service as a collection measure.
Protect all ratepayers from subsidizing energy supply companies (ESCOs) and from paying more for ESCO electricity supply
Ratepayer subsidies of referral programs, advertising, and the other costs of promoting ESCOs should be reduced or eliminated.  Additionally, customers should be given web-based comparison calculators and other tools that compare ESCO prices with the cost of buying electricity directly from Con Edison.
The PSC should investigate whether high charges for ESCO service are raising debt burdens and termination risks for low-income customers.
Update: The "Freeze" That Isn't!

Utility rates may be set by far-off legislative and market-driven realities, but they are felt in the very real, very personal world you call home, where a bill is delivered every month. So even if your eyes tend to glaze over utility issues like the ones raised in the recent Public Service Commission (PSC) settlement of Con Ed rate proposals, the fact is, it's time to pay attention. Because however jargon-packed the language, the impact is all in dollars. And they're high.
Take the settlement itself. The basic deal involves a multi-year rate proposal, which the Utility Project opposed, for Con Ed's electric, gas, and steam divisions. While commercial and industrial rates are set to decrease, residential rates will increase. By the end of 2 and 3 year rate plans, respectively, electric and gas rates are set to increase a net of $47.7 million and $41 million. That's more money built into your bill per month.
The mechanics aren't simple, and they won't be immediately obvious. This is where complication sets in, but attention is even more vital. The first year of the proposed (and now settled) rate plans involved a potential reduction in rates: $76.2 million for electric and $55 million for gas. But instead of implementing that reduction—and passing the savings on to your bank account—Con Ed will be charging the same rates. Why? Because the following years will see major increases, $124 million for electric and $96 million for gas. The idea, and the settlement implemented by the PSC, is to over-collect in the first years of Con Ed's rate plan in order to offset that major increase, to "freeze" rates, at least for a while.
That might be a good idea—levelizing rates for already financially strapped utility customers—except Con Ed's rates are never quite frozen. Things like Monthly Supply Charges and Monthly Adjustment Charges (the "MAC") impact your bill on a regular (you guessed it, monthly) basis. In fact, there are 37 ways the MAC might unpredictably impact your bill. Meaning a "frozen" rate isn't really ever that.
Not to mention there are some unreasonable rates of return for Con Ed built into the settlement, returns we objected to in our testimony. For starters—and here's where some important jargon comes in—the PSC granted Con Ed a higher ROE, or "Return on Equity," for shareholders in the final settlement than its own staff deemed appropriate in its testimony (9.2-9.3% versus 8.7%). The result: rates set $132,790,000 higher than the PSC staff itself said would produce a fair and reasonable return to shareholders.
And then there are the bonuses. Yep, bonuses. Con Ed's proposal, and the ensuing settlement, allows for something called "Variable Management Pay," basically personnel bonuses, to be built into the increased rates—to the tune of $23,549,000 for electric and $4,481,000 for gas. The irony is there's no guarantee that you'll get better service. You will, however, get higher rates.
Unfortunately, by 2016, rates will be $47.7 million (electric) and $41 million (gas) higher, those over-collected funds (that will offset the initial increase) will be gone, and Con Ed will be able to file for new rates—likely higher ones. And improved low income rates, including making Medicaid an eligibility criteria for low income electric rates (it already is for gas), were rejected—shelved, essentially, for later consideration.
The only silver lining of the settlement is that it brought to attention the dire need for a state-based utility consumer advocate, someone (or many someones) to sit at the table and advocate on behalf of the residential ratepayer when issues like multi-year rate plans arise (it's an issue AARP has made a priority). Because even if the reality of utility rate settings seems distant, and tends to occur in far-off rooms filled with suits and jargon and astronomically high numbers, the fact is, they all come home in your monthly bill. If the settlement tells us anything, it's that it's time to pay attention.
More Information:
Find all Public Service Commission filings for this case in the PSC Case File (Case 13-E-0030). The public can file online comments with the PSC regarding the proposed rate settlement. Numerous public officials and groups, including AARP, have filed comments opposing the deal.

Post Public Comments
Post your comments in the case file using the "Post Comments" button. View public comments already posted under the "Public Comments" tab.
Contact your Legislators, Members of Congress and Senators
LEGISLATORS
Find your legislator on the New York State Assembly and Senate websites.
Assembly Committee Chairs
Consumer Affairs and Protection                               Dinowitz, Jeffrey
Corporations, Authorities and Commissions              Brennan, James F.
Senate Committee Chairs
Consumer Protection                                                  Zeldin, Lee M.
Corporations, Authorities and Commissions              Ranzenhofer, Michael H.
Energy and Telecommunications                                Maziarz, George D.
MEMBERS OF CONGRESS
Find your representative on the House of Representatives website.
SENATORS
Take Survey
Take an online survey that identifies the issues that concern you in the Con Edison rate case, asks your opinion about the issues outlined above, and allows you to communicate your issues and opinions to your elected representatives and others involved in the Con Edison rate case.       
Organize a Meeting
Combine traditional local organizing with a healthy dose of social media and you get an effective way to empower utility ratepayers.  Don't forget utilities serve areas – neighborhoods, villages, towns, cities and counties. You and your neighbors likely share common concerns about your utility. Organizing a meeting is a good way to find out.
New York's Utility Project helps local ratepayer groups like community organizations, tenants associations and unions make their voices heard in utility matters. If you would like more information about the resources New York's Utility Project can provide your ratepayer group, feel free to contact us.
Sign-up for Updates. Get the latest email updates on the Con Edison rate case from New York's Utility Project.  Use our convenient contact form to receive timely articles, filing announcements and links to other information about the case.
Contact New York's Utility Project