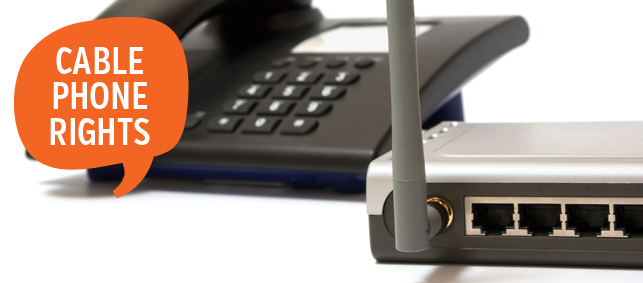 What's at Stake
Time Warner finally concedes that the phone part of its cable, internet and phone package really is telephone service subject to New York State telephone consumer protection regulations.
And, the Public Service Commission (PSC) rules that:
Time Warner can't shut off your phone service for non-payment weekdays after 7:30pm, or on weekends or holidays.
Time Warner must automatically apply partial payments to pay for basic local phone service, providing a first line of defense for customers against telephone disconnection.
Time Warner should proactively advertise and implement its Telephone Lifeline program to ensure that customers who are eligible for Lifeline discounts apply and receive them.
Time Warner must report monthly the total of all customers with service trouble, how long it takes to fix their problems, and the number of service appointments it misses until it identifies which of its customers receive low- income Lifeline service or have medical conditions or other special needs. Then it can limit reporting to just those customers.
Key Issues
Now that Time Warner has acknowledged that it provides telephone service subject to New York State telephone consumer protections, it's time to ask: Where are the protections for phone customers of other cable companies?
While Time Warner has 1.2 million New York State telephone service customers, Cablevision, the state's largest cable phone service provider, has 2.3 million phone customers in the New York City metropolitan area alone. Their service remains unregulated. The PSC has no agenda to bring the telephone service customers of Cablevision and other cable companies under telephone consumer protection regulations such as the Telephone Fair Practices Act (TFPA). This leaves millions of New Yorkers vulnerable to poor service, termination, and a lack of low-income discounts such as the Telephone Lifeline program.
Companies providing unregulated cable telephone service are also not required to contribute to state's Targeted Accessibility Fund (TAF), which funds Lifeline, Enhanced E-911, public interest pay phones and the state's Telecommunications Relay System.
So telephone service customers of cable companies get no protections, and the cable company doesn't have to help support programs that its landline competitors, and now Time Warner, are required to support?
If this sounds peculiar, consider the following:
Cable companies have won passage of permanent VoIP deregulation in twenty states and the Executive Budget proposed in New York State budget for 2013-14 contained language permanently precluding any future consumer- or worker-protective regulation of VoIP telephone service.
The PSC should adopt a consistent policy toward cable telephone services that brings all cable companies under New York State telephone consumer protection regulations. All facilities-based telephone customers in New York State should be protected by TFPA.
Low – income and special needs customers can't be protected against unaffordability and bad service if they're not identified. Service quality reporting for ALL customers must continue until Time Warner's low-income Lifeline program is fully implemented and the company has identified those of its customers with special needs.
Time Warner needs to implement its low income Lifeline discount program before it can accurately report service trouble for Lifeline customers. Only 149 out of 1.2 million New York customers had Lifeline as recently as summer 2013. The company must show successful enrollment of Lifeline-eligible customers before it can protect those customers against poor service quality. It would be a mistake to relax service quality reporting requirements until the Lifeline program is successfully implemented.
The same is true for Time Warner phone customers with special needs such as those with medical conditions, visual impairments, other disabilities and the elderly. Newly regulated Time Warner needs to identify those customers who have special needs before those customers can be protected against poor service quality. It would be a mistake to relax service quality reporting requirements until its customers with special needs are identified.
In the meantime, it makes no sense to relax service quality reporting requirements. Time Warner has a duty to identify the segment of its customer base that is most at-risk if service quality is poor, and set up the monitoring mechanism necessary to protect them against bad service. Only then should they be permitted to limit service quality reporting to just Lifeline and special needs customers.
See the Time Warner Cable Lifeline Program for information and application instructions.
Find all PSC filings for this case in the  PSC Case File (13-C-0193)
Post Public Comments
Post your comments in the case file using the "Post Comments" button. View public comments already posted under the "Public Comments" tab.

Contact your Legislators, Members of Congress and Senators
LEGISLATORS
Find your legislator on the New York State Assembly and Senate websites.
Assembly Committee Chairs
Consumer Affairs and Protection                               Dinowitz, Jeffrey
Corporations, Authorities and Commissions              Brennan, James F.
Senate Committee Chairs
Consumer Protection                                                  Zeldin, Lee M.
Corporations, Authorities and Commissions              Ranzenhofer, Michael H.
Energy and Telecommunications                                Maziarz, George D.
MEMBERS OF CONGRESS
Find your representative on the House of Representatives website.
SENATORS
Take Survey
Take an online survey that identifies the issues that concern you in the National Fuel Gas rate case, and also asks your opinion about the issues outlined above and allows you to communicate your issues and opinions to your elected representatives and others involved in the National Fuel Gas rate case.
Organize a Meeting
Combine traditional local organizing with a healthy dose of social media and you get an effective way to empower utility ratepayers. Don't forget utilities serve areas – neighborhoods, villages, towns, cities and counties. You and your neighbors likely share common concerns about your utility. Organizing a meeting is a good way to find out.
New York's Utility Project helps local ratepayer groups like community organizations, tenants associations and unions make their voices heard in utility matters. If you would like more information about the resources New York's Utility Project can provide your ratepayer group, feel free to contact us.
Sign-up for Updates
Get the latest email updates on the National Fuel rate case from New York's Utility Project. Use our convenient contact form to receive timely articles, filing announcements and links to other information about the case.
Contact New York's Utility Project