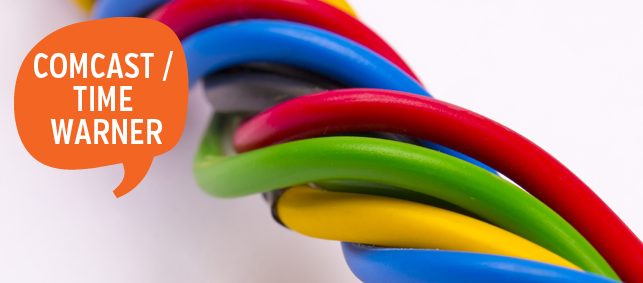 What's at stake?
On February 13, 2014, Comcast, a national cable operator headquartered in Philadelphia, and the New York-based Time Warner Cable, announced an agreement for Time Warner Cable to merge with Comcast in a deal valued at approximately $45.2 billion. In addition to New York's approval, the companies must also receive federal approval and approvals in the other states where they operate.
In a statement on their website Comcast notes this of the merger:
"Together, Comcast and Time Warner Cable will make life online better for more people by bringing faster Internet speeds, a more reliable and more secure network, net neutrality protection, low-cost Internet access, and programming diversity to millions of new customers across the country."
In a May press release by New York Governor Cuomo's Office, the Governor's office noted that Time Warner Cable provides digital cable television, broadband internet and VoIP telephone service to approximately 2.6 million subscribers in New York State. The company provides triple play service in the major metropolitan areas of the State: Buffalo, Rochester, Syracuse, Albany and the boroughs of Manhattan, Staten Island, Queens and parts of Brooklyn.
Time Warner has 1.2 million phone customers and operates in nearly all of New York's 62 counties as New York's second largest telephone company. In New York City Time Warner serves all of Manhattan, Queens and Staten Island, as well as the northwest corner of Brooklyn.
Governor Andrew M. Cuomo announced that the New York State Public Service Commission (PSC) will use its new regulatory powers to conduct a thorough and detailed investigation into Comcast Corporation's proposed merger with Time Warner Cable, Inc. to determine whether the proposed transaction is in the best interest of Time Warner's New York customers and the State as a whole.
Presently, there are no advocates for consumers or competitors involved as an active party conducting discovery in the discovery phase of the PSC proceeding underway to review whether the proposed transaction is in the public interest.
New York's Utility Project filed a statement that the public record of the case does not contain sufficient evidence to support a conclusion that the proposed takeover of Time Warner by Comcast would result in significant net positive benefits achievable only through the transaction that outweigh the risks to universal service and consumer protection. Thus, it is their opinion that the proposal fails to pass muster under the customary public interest standard utilized by the PSC for merger approvals.
After a review of the Joint Proposal put forth to New York Public Service Commission by Comcast and Time Warner, the statement of the Utility Projectconcludes that the Joint Proposal lacks specifics to show that significant incremental positive benefits will flow to New York consumers. There is no commitment regarding future rates, services, service enhancement and universal service for telephone and broadband.
Rather, there are risk that rates will rise, service quality will be low, and universal service goals for both telephone service and broadband will not be accomplished.
The Utility Project recommends adoption of goals to expand availability and reliability of affordable, high speed broadband to all New Yorkers in areas served by Comcast and Time Warner, and that Comcast should be recognized by the New York Public Service Commission (PSC) as a telecommunications service provider like Time Warner, and that service quality be monitored.
Key Issues Identified by New York's Utility Project on the Comcast + Time Warner Cable merger
Telephone: Universal Service Subscribership and Customer Protection Issues
Universal Subscribership
A fundamental measure of universal service is the percentage of households who subscribe to telephone service. As the availability of phone service from Voice-over Internet Protocol (VOIP) providers such as Time Warner and Comcast grew dramatically, telephone subscribership in New York has declined. In the most recent FCC report, New York stands third from the bottom in the ranking of the 50 states by subscribership, above only Indiana and West Virginia.
While the causes for this may be many including unaffordability, collection practices involving service termination, and inadequate consumer protection when VOIP phone service is provided by cable companies are likely factors. The circumstances point to a need for careful scrutiny of the proposal and its impact on universal service. Read More
Service Quality
In general, the national reputation of Comcast and Time Warner regarding service quality and customer satisfaction leaves much to be desired. Information regarding performance in New York should be scrutinized.
In 2013, when Time Warner became an ETC and regulated provider of telecommunications services in New York, the Commission required filing of regular reports regarding service quality and performance in meeting the service quality metrics established by the Commission in its regulations.
These reports have been filed with the Commission, and responses to staff inquiries regarding service quality performance, have been filed accompanied by requests for trade secret protection, which have not been decided. Read More
Rates
Comcast and Time Warner have made no commitments regarding future rates for phone service, or, for that matter, any of their other services.. There has been no determination by the Commission as to reasonableness of Time Warner's rates for telephone service. There is little reason to believe that pricing of the telephone service is reasonable or competitive. Instead, with the small number of providers and a price cap set for the incumbent local exchange company providers, there is every reason to expect that prices are at best based on the market value when there are few competitors.
Broadband
Pricing is high in U.S. including New York
The broadband business of bundling services enables the internet service providers (ISP) to combine pricing among broadband, TV, telephone and, in some cases, mobile services. The ISPs know that everyone needs and will subscribe to a broadband service, so they can charge whatever they can. According to BBC News U.S. high-speed broadband service costs nearly three times as much as in the UK and France, and more than five times that of South Korea. Since broadband service is the ISP's highest margin offering, exceeding 90% gross profit, in a bundled offering they can afford to offer short term promotional rates for bundled services to gain market share without real competition over long term prices, which are usually similar. Read More
Upstate New York provider competition is dwindling
With Verizon halting its expansion of its fiber broadband network service (FIOS) in upstate New York, there is a risk that in the absence of real competition Time Warner and Comcast subsidiaries in New York will enjoy a de facto monopoly. For example in Albany, Comcast and Time Warner have market power and may not maximize the social utility of expanding high speed broadband that is in the public interest in New York, or will not upgrade existing slow networks, or will refuse to build out their networks in less densely populated areas, even though profitable. Rather, the holding company that owns the New York subsidiaries may harvest the fruits of the market power in New York and deploy capital investments in other jurisdictions where even higher returns may be possible.
Time Warner should not be allowed to relinquish any responsibility or support for its status as a telephone company subject to universal service and state regulation, including consumer protection rules.
Corrective measures should be required for any failure of Time Warner to satisfy state telephone service quality standards.
More Information: (PSC FILINGS)
Post Public Comments with the Public Service Commission
Post your comments in the case file using the "Post Comments" button. View public comments already posted under the "Public Comments" tab.
Contact your Legislators, Members of Congress and Senators
LEGISLATORS
Find your legislator on the New York State Assembly and Senate websites.
Assembly Committee Chairs
Consumer Affairs and Protection                                 Dinowitz, Jeffrey
Corporations, Authorities and Commissions                Brennan, James F.
Senate Committee Chairs
Consumer Protection                                                    Zeldin, Lee M.
Corporations, Authorities and Commissions             Ranzenhofer, Michael H.
Energy and Telecommunications                               Maziarz, George D.
MEMBERS OF CONGRESS
Find your representative on the House of Representatives website.
SENATORS
New York's Utility Project helps local ratepayer groups like community organizations, tenants associations and unions make their voices heard in utility matters. If you would like more information about the resources New York's Utility Project can provide your ratepayer group, feel free to contact us.
Sign-up for Updates. Get the latest email updates on the Comcast/Time Warner merger from New York's Utility Project.  Use our convenient contact form to receive timely articles, filing announcements and links to other information about the case.
Contact New York's Utility Project